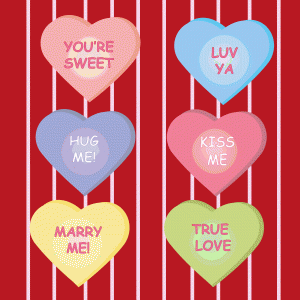 "Be Mine," "Kiss me,"  "Sweet Talk." Sweethearts Conversation Hearts, the small heart-shaped pastel colored candy with the familiar sayings have been a Valentine's Day treat since 1902. Their manufacturer, NECCO, the New England Confectionery Company, in business since 1847, produces more than 8 billion of the candy conversation hearts a year.
In the 1860's the New England Confectionary Company began printing sayings on candy like "Married in Pink, He will take to drink,"or "Married in White, you have chosen right," and "Married in Satin, Love will not be lasting." (Not such a good send-off for being married in pink or satin!!!)
The conversation heart sayings have been updated over the years with new ones added periodically. The candy is quite popular — NECCO sells out of their hearts — 100,000 pounds a day — in six weeks.
A few years ago NECCO asked the public how they wanted to express their love and in 2010 they introduced new flavors and sayings. The new flavors are strawberry, green apple, lemon, grape, orange, and blue raspberry new sayings include "Tweet Me," "Text Me," "You Rock," "Soul Mate," "Love Bug," and "Me + You."
Although you'd be hard pressed to call them nutritious, candy hearts are fat free, sodium free, and a caloric bargain at about 3 calories apiece for the small hearts and about 6 calories apiece for the larger "Motto" hearts.
In my mind, candy hearts and paper Valentines are absolutely linked with elementary school Valentine's Day celebrations.  How about you?