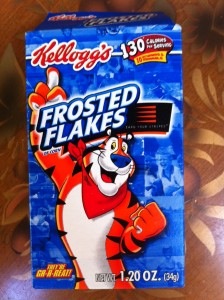 I was having breakfast with a five year old who insisted on taking an individual box of Frosted Flakes from a display. Of course she would, the little box is designed to appeal to a child.
I'm not a cold cereal lover, but I have been known to grab a handful or two of those sugar coated flakes when they are sitting in front of me (without milk – it destroys the crunch).
Because I haven't had a box of Frosted Flakes in front of me for a long time and I like to think of myself as an informed adult, I picked up the cute little royal blue box with Tony the Tiger on the front to read the nutrition and ingredients labels.
What a shocker.  I knew that Kellogg's Sugar Frosted Flakes of Corn was not nutritionally stellar – but what a shock to read the front of the box hype and then to look at the labels.
Sugar Frosted Flakes
The cereal, first introduced in 1952 as Sugar Frosted Flakes, is described as sweet and crunchy and "packed with 10 essential vitamins and good-for-you grains that give you the great-tasting energy you need."  The tagline reads: "It's what fuels you up so you can play, prep and be your very best."
Take a peek at the nutrition label.  Notice the amount of protein and fiber (or, essentially, lack of).  How much sugar is there? Look at the ingredients label.What are the first five ingredients?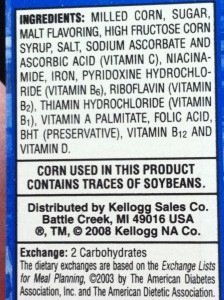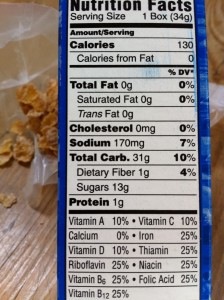 My youngest son once ate an astonishing double digit number of little boxes of Frosted Flakes, without milk, at summer sleep-away camp – a story first told to me by his brothers and validated by the counselors.  Can you imagine what his behavior must have been like that day on a massive sugar overload from breakfast cereal? No wonder the camp changed its breakfast policy – and its breakfast foods!
Is it time to change your breakfast?