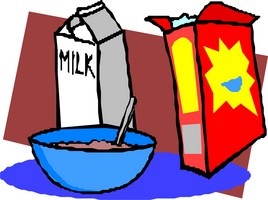 Granola – I admit it, I love most kinds.  But, honestly, most granola can be considered a "health halo" food – a food that seems like it should be healthy (but isn't) because of the way it's labeled, or because of what it's called, or because of some of its ingredients.
Granola always sounds so healthy, filled with oats, grains and maybe nuts or dried fruit – stuff that can be really good for you – except for when it's cooked in lots of oil or butter and is sweetened with a whole lot of sugar or some other form of sweetener. It also does not have a lot of protein.
The real kicker can be the serving size.  If you haul out your cereal bowl and just dump in granola you can be in  caloric nightmare land. You really need to check serving sizes with granola – the serving size varies with the brand and can be as small as ¼ cup – which can look paltry even in a teacup. There are lower fat versions of granola – although some low fat versions are not necessarily low in calories.  Some examples of granola nutrition:
I have trouble keeping granola in my house — because I really like it.  I find myself shoveling handfuls of it into my mouth straight from the box when I open the cupboard and it's there, calling my name.  It does make a great topping for ice cream – in measured amounts — if you're so inclined.
But, if you love your granola and want it for your cereal, just check the ingredients and the serving size.  Know what you're getting and what you're eating.