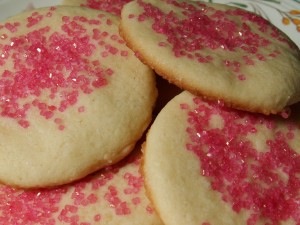 It's Christmas Cookie Time
In my family holiday season means, among other things, baking.  Lots of  cookies:  spritz, rolled, ginger bread men, meringues, Greek powdered sugar cookies; a savory carrot bread; poppy seed bread; and whatever dessert sounds good.  No fruit cake, though.
If I ever added up the butter and sugar calories in all of these baked delights, the number would be so staggering it would absolutely spoil the deliciousness.
I've been doing some research on lower calorie substitutions for the ingredients in baked goods.  Some I've tried and some I haven't.
I've been decreasing the fat and sugar in the things I bake since this summer and in most cases have had a good deal of success.  I find that decreasing the amount of sugar by a third doesn't even really affect the taste. I'm working up to decreasing by a half.  The true test will be the spritz cookies!
Some Baking Substitutions To Try
Use ¼  cup of applesauce and ¼  cup of vegetable oil or butter instead of a half cup of oil or butter – OR — replace half the butter or oil with unsweetened applesauce, pureed pumpkin, or mashed bananas
Use 2 egg whites or ¼ cup egg substitute for one egg; use 3 egg whites and 1 egg yolk for 2 whole eggs
Decrease the amount of sugar in your recipe by up to a half and add ginger, lemon zest, cinnamon, or cloves
Substitute nonfat sweetened condensed milk for sweetened condensed milk
Substitute evaporated skim milk for evaporated milk
Instead of sour cream use nonfat or low fat sour cream; pureed low-fat cottage cheese; or low or nonfat Greek yogurt
Substitute low or nonfat cream cheese for cream cheese
Substitute non-fat, 1%, or 2% milk for whole milk and half and half for cream
Substitute 1/2 cup mini chocolate chips, chopped dried fruit, or chopped nuts for 1 cup of chocolate chips
Swap 3 tablespoons of cocoa powder plus 1 tablespoon of oil or water for one ounce of baking chocolate
For frosting use sliced fresh fruit with a dusting of powdered sugar; sweetened and flavored (vanilla, peppermint) nonfat cream cheese; or nonfat whipping cream
Use whole wheat flour or ground flax for up to half of your recipe's white flour. Regular whole wheat flour will make baked goods heavier and denser.  Try using white whole wheat four that is higher in fiber and nutrients than refined flour but is lighter than regular whole wheat flour.