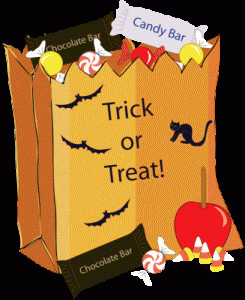 A public heath expert has estimated that, on average, a child in the US collects between 3,500 and 7,000 candy calories on Halloween night.
She says that to burn off 7000 calories, a one hundred pound child would have to walk for almost 44 hours or play full-court basketball for 14.5 hours.
With 31% of US children and teens ages 2-19 overweight or obese, it really makes you stop and think about having candy and treats so frequently and easily available everywhere you look.
One evening of collecting candy is not going to make a child – or an adult – overweight or obese.  It is the constant bombardment with candy, sweets, and other treats that can lead to weight (and health) challenges.
Now that we're on the cusp of the major holiday season perhaps it's time to give some thought to the quantity and constant availability of treats.
A treat is only a treat if it happens once in a while.  If it's a common occurrence it far too frequently becomes an expectation or a habit.