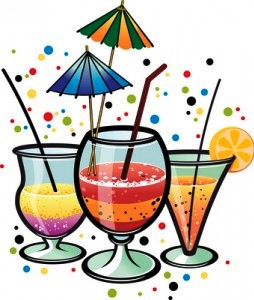 Mid-August.  Time for vacation – and if not vacation, certainly some relaxing outdoor time, maybe with drink in hand.
Could a nice cold (or frozen) margarita or mojito be your drink of choice?  You might opt to go with the tequila, citrus, and salt flavors of a magarita or the rum, lime, and mint flavors of a mojito — but is there a caloric and alcoholic content difference (alcohol has 7 calories a gram) between the two?
Calories And Grams Of Alcohol In A Margarita And A Mojito
Remember to look at the serving size.  The stats given below are for 3.3 and 3.5 ounces – visualize the amount in a little more than two average sized (1.5 oz.) shot glasses.  A whole lot of drinks are served in much larger glasses.  They are the nutritional values for traditional margaritas and mojitos  — without embellishments.
Margarita (3.3 fluid oz. cocktail glass):   153 calories, 0g fat, 7g carbs, 4.3g sugars, 583 mg sodium, 0.2g protein, 17.7g alcohol
Mojito — without soda water or mint garnish (3.5 fluid oz. old fashioned glass):  149 calories, 0g fat, 5.8g carbs, 4.5g sugars, 1mg sodium, 0.1g protein, 17.9g alcohol