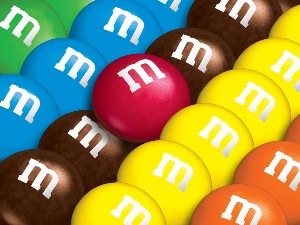 On a road trip?  Stuck in an airport?   Is a vending machine calling your name?
You've decided you need a snack.  Decision made:  it's going to be candy – and it's going to be M&M's.  After all, M&M's mean melt in your mouth, not in your hand – and who wants melted chocolate all over the steering wheel or suitcase or the mess of papers on your desk?
Some M&M History
M&M's, around since 1941, were actually designed so people could enjoy their chocolate without it melting in their hands. They're named after the inventors Forrest Mars and R. Bruce Murrie (haven't you always wondered where M&M's came from?).
They were introduced to GIs in World War II, flew into space in 1982, and have been part of space shuttle missions since then. The little "m" you see on each candy wasn't printed on them until 1950.  The "m" was originally printed in black – today it's white.
Choices, Choices
M&M's now come in a whole bunch of varieties and seasonal colors.  But — when you're staring at the array of colorful M&M packages, your hands itching to tear open the wrapper and pop some into your mouth, which would you choose:  plain, almond, or peanut, or peanut butter?
Of course the purists might say there is no choice other than plain.  But, since there are choices, are there some potentially redeeming nutritional benefits to adding nuts under the chocolate and candy coating?  Do some varieties have more protein or fewer calories or more fat?  Take a look at the nutritional information – maybe it'll help you with your choice. (Note that the package weight of the different varieties is not identical).
Plain milk chocolate M&M's (1.69oz package):  240 calories, 10g fat (6 saturated), 34g total carbs, 1g fiber, 2g protein
Dark chocolate M&M's (1.5oz package):  210 calories, 10g fat (6g saturated), 29g total carbs, 2g fiber, 2g protein
Peanut M&M's (1.74oz package):  250 calories, 13g fat (5g saturated), 30g total carbs, 2g fiber, 5g protein
Almond M&M's (1.5oz package):  220 calories, 12g fat (4g saturated), 25g total carbs, 2g fiber, 3g protein
Peanut butter M&M's 1.5oz package:  220 calories, 12g fat (4g saturated), 25g total carbs, 2g fiber, 3g protein
Pretzel M&M's 1.14oz package:  150 calories, 5g fat(3g saturated), 24g total carbs, 1g fiber, 2g protein  (product is kosher)
Ingredients
Ingredients in regular M&M's: Milk Chocolate (Sugar, Chocolate, Skim Milk, Cocoa Butter, Lactose, Milkfat, Soy Lecithin, Salt, Artificial Flavors), Sugar, Cornstarch, Less than 1% Corn Syrup, Dextrin, Coloring (Includes Blue 1 Lake, Red 40 Lake, Yellow 6, Yellow 5, Red 40, Blue 1, Blue 2 Lake, Yellow 6 Lake, Yellow 5 Lake, Blue 2), Gum Acacia.
Ingredients in pretzel M&M's: milk chocolate (sugar, chocolate, skim milk, cocoa butter, lactose, milkfat, soy lecithin, salt, artificial flavors), pretzel [enriched flour (wheat flour, niacin, reduced iron, thiamine mononitrate, riboflavin, folic acid), salt, food starch-modified, vegetable oil (soybean oil, canola oil and/or corn oil), malt, leavening (yeast, sodium bicarbonate, ammonium bicarbonate)], sugar, less than 2% – cornstarch, corn syrup, dextrin, coloring (includes blue 1 lake, red 40 lake, yellow 6, red 40, yellow 5, blue 1, yellow 6 lake, yellow 5 lake, blue 2 lake, blue 2), gum acacia.
Allergy information: may contain peanuts.  Product is Kosher
These are the ingredient lists for regular and pretzel M&M's. If you're looking for something with good nutrition – this isn't it.  It is candy, so the amounts of sugar, fat, and protein shouldn't be a big surprise.  The thing to really make note of is what M&M's are famous for (aside from melt in your mouth, not in your hands) – the colors.  Look at the list of artificial colors ("lake" means the dyes are used in liquid form, not powder), some of which have been associated with allergic reactions, cancer causing properties, and hyperactivity.  Just a heads-up about another thing to consider when choosing your snack.