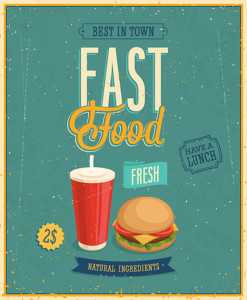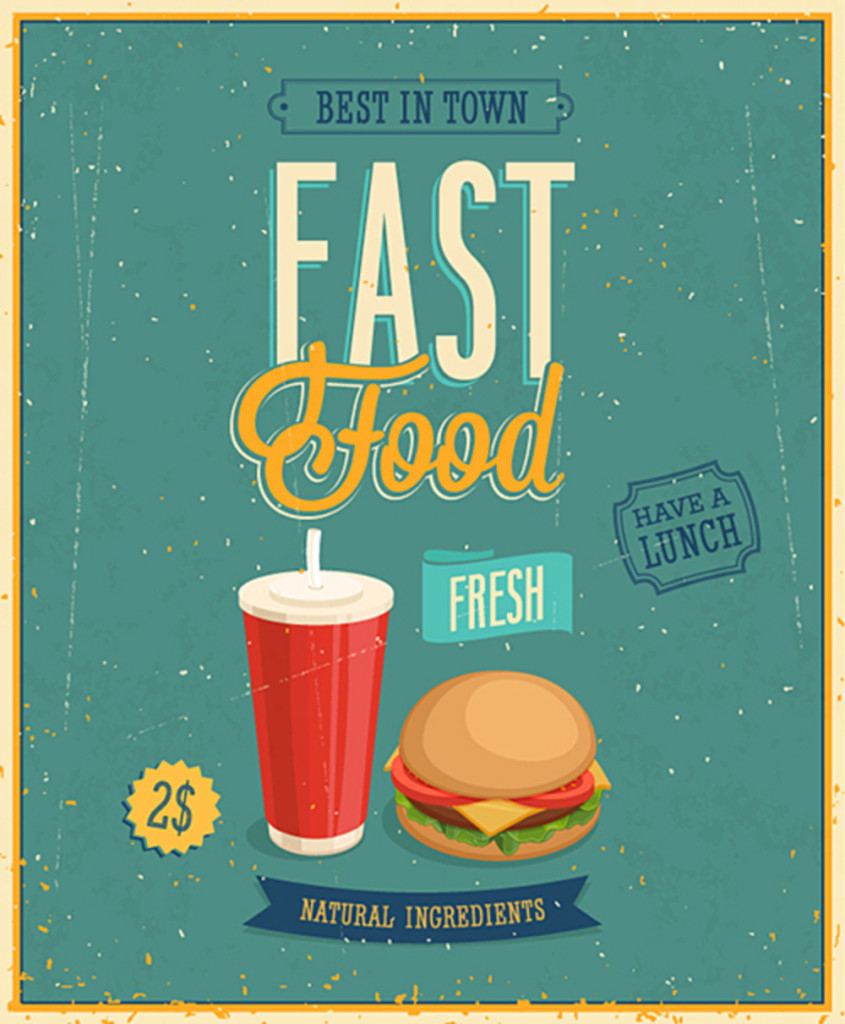 Are you too busy to cook and figure, "What the heck, I'll just grab something quick?"  What's quick: mostly diner food, pizza, donuts, and just about any kind of fast food: basically, cheap calories and a whole lot of fat and carbs?  Slick marketing, convenience, and cheap calories really push you to order the "value meal" or to 'supersize."
There are some easy small changes you can make that won't drastically change your meal. They don't focus on skipping dessert or having a cup of broth instead of a burger, but rather on choosing to make slight alterations in what you would usually order.
Here's how to save a few calories when you eat at fast food (or fast casual) restaurants:
Go easy on the sauce and dressings: There are lots of calories in mayo, sour cream, salad dressing and other "special" sauces, like those that come with burgers. The amount on your sandwich or salad often depends on the "hand" of the person preparing your food.  The best way to control this is to ask for the sauce or dressing on the side and add it (or not) yourself.  You really can do this in fast food burger places!
Opt for chicken or fish as long as it's not fried/breaded/or called crispy – which is just an alias for fried.  Order it grilled, baked or broiled. Just be aware that lots of the sauces have a ton of sugar in them.  Make your best choice (check the labels or nutrition info) and dip sparingly.
Order your burger or chicken without bacon or cheese: A serving size of meat is 2-3 ounces — about the size of a deck of cards. You're probably getting well over that with a single meat patty. One slice of bacon adds about 43 calories, but how many sandwiches come with only one slice? One slice of American cheese clocks in at 94 calories.
Downsize. Order a kid's meal or a junior burger. Opt for regular sizes instead of large sizes: It may seem like a good "value" but there are lots of extra calories, fat, and sugar in beefed up sizes. You'll still be satisfied. Here's a comparison.  At Burger King, a Triple Whopper burger has 1,020 calories, 65g fat, 57g carbs, 3g fiber, 58g protein.  You could get one of these, instead:  Plain regular burger: 240 calories, 8g fat, 31g carbs, 1g fiber, 12g protein (280 calories and 12g fat for a cheeseburger;  Whopper Jr. without mayo,
1 burger: 260 calories, 10g fat, 28g carbs, 2g fiber, 13g protein;  MorningStar Veggie Burger without mayo, 1 burger: 320 calories, 7g fat, 43g carbs, 7g fiber, 22g protein
Do you really need (read "need" not "want") the fries, curly fries, potato sticks, or onion rings?  You can order salad or a baked potato, instead (as long as you don't smother the potato in butter and/or sour cream). If you absolutely must have fries, order a small or a kid's size. Large fries can tack on around 500 calories compared to a small order at around 300 calories.
Avoid combo specials: they might have wallet appeal but you get, on average, 55% more calories for 17% more. money.  What's more important, your waistline or your wallet?
Thin crust it: Go for a thin-crust pizza with veggies instead of a thick-crust or deep dish with meat and extra cheese.
Skip the sides: Eating a burger or sandwich by itself is often filling enough. If you do want a side, consider ordering a fruit cup or side salad. Most fast food restaurants now offer them.
Don't drink your calories.  Soda isn't the only sugary drink. Sweetened tea, sports drinks, non-diet flavored water, juice, flavored milk, and shakes are sugary drinks, too. A 12 ounce can of coke has 140 calories and 39 grams of sugar. Eight ounces of orange juice has 110 calories and 25 grams of carbs.
Treat yourself – but swap out your treats. Go for low-fat ice cream or frozen yogurt (careful of the toppings), fruit popsicles, and sherbets instead of ice cream or cookies. Add sprinkles — they have a lot fewer calories than caramel or chocolate sauce.
Salads aren't always the best pick. The dressing, the cheese, the croutons, and other mix-ins can add a ton of calories.
Some choices to consider:
McDonald's Fruit 'n Yogurt Parfait, 1 parfait: 160 calories, 2g fat, 31g carbs, 4g protein
McDonald's Apple Dippers with Low Fat Caramel Dip:  100 calories, 0.5g fat
Subway Egg White Muffin Melts, 1 sandwich, except mega and sausage varieties): 140 – 210 calories, 3.5 – 8g fat, 18 – 20g carbs, 12 – 19g protein
Taco Bell Fresco Chicken Soft Taco, 1 taco: 170 calories, 4g fat, 22g carbs, 12g protein
Burger King Whopper Jr. without Mayo: 260 calories, 10g fat, 29g carbs, 13g protein
Burger King Quaker Oatmeal,
1 order: 140 – 270 calories, 3.5 – 4g fat, 23 – 55g carbs, 3 – 5g fiber, 5g protein – the fruit topped maple flavor includes 100 calories of dried cranberries, raisins, cherries, and blueberries
Burger King Egg & Cheese Muffin Sandwich,
1 sandwich: 220 calories, 9g fat, 22g carbs, 1g fiber, 12g protein
KFC Grilled Chicken Breast, 1 piece: 210 calories, 8g fat, 0g carbs, 34g protein
Carl's Jr. Hawaiian Grilled Chicken Salad, 1 salad without wontons or dressing): 260 calories, 8g fat, 34g carbs, 22g protein
Wendy's Small Chili, 1 small order: 220 calories, 7g fat, 22g carbs, 18g protein
Denny's Fit Fare Light Choices (under 550 calories) such as Cranberry Apple chicken Salad or Chicken Avocado Sandwich
Dunkin" Donuts Roast Beef Pretzel Roll Sandwich:  1 sandwich: 440 calories, 7g fat
Some Choices To Think Hard About (and not in a good way):
Taco Bell Chipotle Steak Taco Salad, 1 salad: 900 calories, 57g fat, 68g carbs, 28g protein
Wendy's Baconator Double, 1 burger: 980 calories, 63g fat, 46g carbs, 58g protein
Burger King Triple Whopper, 1 burger: 1,140 calories, 75g fat, 51g carbs, 67g protein
BK Ultimate Breakfast Platter,
1 platter: 1,450 calories, 84g fat, 34g carbs, 5g fiber, 40g protein
French Toast and Bacon: 1850 calories, 65 g sat. fat
Denny's Macho Nacho Burger: 1020 calories, up to 1530 calories with fries
 Chili's Southwestern Chicken Pizza, 9 inches:  1550 calories
 Chicken Fajitas served with heaps of sour cream, shredded cheese, refried beans, and fried rice:  (average) 1320 calories,   47 g fat

The newest issue of Eat Out Eat Well Magazine is now in the iTunes store — it's ranked #2 in the Health, Mind, and Body iPad paid apps category!!! Get yours now.