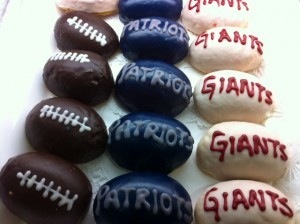 Seriously.  Hand to mouth munching on chips, dips, and wings.  A swig or two or three.  A cookie here and there.  And then there's the "real food" at halftime – or maybe there was pizza first followed by a selection of subs.
By the end of the game do you have a clue about how much – or even what — you have popped into your mouth?
You may – or may not – be riveted to the TV screen rooting hard for your team, but you may also be going along for the ride – happy to be at a party where there's plenty of food and shouting and enthusiasm – a classic set-up for mindless and distracted eating which is what can happen when there's no "structured meal,"  a lack planning, and when you give into "head hunger" and "see it and eat it," as opposed to actual physical hunger.
What Makes Us Eat Too Much?
Hunger doesn't prompt most of us to overeat. Family, friends, plate size, packaging, lighting, candles, smells, distractions, environments, and feelings all do.    We make about 200+ food related decisions a day – like deciding between pizza or wings; a sandwich or salad; chocolate chip or oatmeal cookie; light beer or diet coke; kitchen table or chair in front of the TV.  That's about 200+ daily opportunities to be mindful or mindless – and probably a whole lot more when faced with a flow of food and an exciting game.
Food And Football
It's amazing how food has become associated with football — from tailgating to Superbowl parties.  There are plenty of choices for eating deliciously well if you are more mindful than mindless about your selection of food.
Stick with grilled meat, veggies, baked chips rather than fried, plain bread, a pita, or wrap rather than biscuits or cornbread. Go for salsa and skip the guacamole.  Turkey, baked ham, and grilled chicken are better choices than wings and fried chicken.
Examples Of Potential Pitfalls And Some Saving Graces:
Tostada with guacamole:  2 pieces (9.3 oz), 360 calories, 23g fat, 32g carbs, 12g protein
Salsa:  1 tablespoon 4 calories, .04g fat, 1g carbs, .2g protein
Nacho flavored tortilla chips, reduced fat:  1 oz, 126 calories, 4g fat, 20g carbs, 2g protein
Nacho flavored tortilla chips:  1oz, 141 calories, 7g fat, 18g carbs, 1g protein
Potato chips:  1oz, 152 calories, 10g fat, 15g carbs, 2g protein
Potato chips, reduced fat:  1 oz, 134 calories, 6g fat, 19g carbs, 2g protein
Raw baby carrots:  1 medium, 4 calories, 0 fat, .8g carbs, 0 protein
Pizza Hut cheese pizza:  1 slice (1/8 of a 12" medium pan pizza), 240 calories, 10g fat, 27g carbs, 11g protein
Pizza Hut pepperoni pizza:  1 slice (1/8 of a 12" medium pan pizza), 250 calories, 12g fat, 26g carbs, 11g protein
Grilled chicken breast:  one 4.2 oz breast, 180 calories, 4g fate, 0 carbs, 35g protein
KFC Fiery hot Buffalo wing:  one 1oz wing, 80 calories, 5g fat, g carbs, 4g protein
KFC extra crispy drumstick:  one 2oz piece, 150 calories, 6g carbs, 11g protein
Chili (Wendy's, with saltine crackers):  8 oz, 187 calories, 6g fat, 19g carbs, 14g protein
Wheat bread:  1 slice, .9 oz., 65 calories, 1g fat,, 12g carbs, 2g protein
Italian combo on ciabatta (Panera):  1 sandwich, 1lb. 7 oz, 1050 calories, 47g fat, 94g carbs, 61g protein
Subway 6g of fat or less turkey breast & ham on wheat sandwich:  8.3oz, 296 calories, 4g fat, 48g carbs, 19g protein
Chocolate chip cookie:  2-1/4" from refrigerated dough. 59 calories, 3g fat, 8g carbs, 0.6g protein
Chocolate ice cream, Cold Stone Creamery:   5oz (like it), 326 calories, 20g fat, 33g carbs, 5g protein
Apple:  medium, 95 calories, .4g fat, 25g carbs, .5g protein
What's on your menu?
GO GIANTS!
Remember to visit and Like MyFoodMAPs on Facebook.