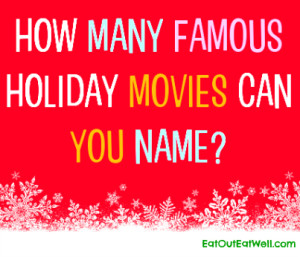 Sometimes you just need a break from holiday madness.  Sometimes a lot of present wrapping or cookie baking gets done with the TV on and some nice downloads from movies on demand or Netflix .
There are lots of holiday movies for adults and kids alike. There are new ones added every year but these have been around for awhile — some of them for a long, long time!
Here are some famous ones:
Miracle on 34th Street
It's a Wonderful Life
Holiday Inn
White Christmas
The Lemon Drop Kid
Rudolph the Red-Nosed Reindeer
The Santa Clause
A Christmas Story
Home Alone
Santa Claus is Comin' to Town
How the Grinch Stole Christmas
A Christmas Carol
Scrooged
National Lampoon's Christmas Vacation
Where's Frosty the Snowman?  Can you add to this list?
For more holiday trivia, eating tips, and a guide to good luck New Year's foods get Eat Out Eat Well digital magazine from the iTunes store. For a coupon code for a free 3-month subscription, click here.