Is moving your hand from bucket to mouth, fingers clenched around salty, buttery popped kernels, scrounging for the napkins you forgot to grab at the concession stand, your movie theater habit?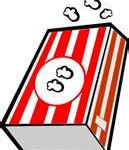 If it is, just know what you're chowing down on.
The Center for Science in the Public Interest, a public advocacy group, bought multiple servings of popcorn from the three largest movie chains:  Regal Entertainment Group, AMC, and Cinemark, and had them analyzed in an independent lab.  
The results: you can get more than half a day's calories and three days' worth of saturated fat in one large popcorn bucket. 
A large-sized popcorn at Regal holds 20 cups of popcorn with 1,200 calories and 60 grams of saturated fat.  If you drizzle — or pump — on the buttery topping you can add on another 200 calories and 3 grams of saturated fat (in 1.5 tablespoons).  
Other stats:  a large popcorn at AMC has 16 cups, 1,030 calories and 57 grams of saturated fat.  A large from Cinemark: 17 cups and 910 calories, 4 grams of saturated fat (in both cases, before adding the buttery topping). 
Another concern: Regal and AMC pop their popcorn in coconut oil, which is about 90% saturated fat. Cinemark  pops in canola oil, which accounts for the lower saturated fat levels. 
http://www.usatoday.com/news/health/2009-11-19-popcorncalories19_ST_N.htm, http://www.latimes.com/news/nation-and-world/la-sci-movie-popcorn19-2009nov19,0,4003634.story
There's no denying that movie popcorn tastes great.  Now that you know the nutritional content you can decide if the occasional bucket of popcorn fits into your overall diet.  Think about strategies – buy a small size, share with a friend.  If you're going to indulge, what other fatty food can you cut back on?
Or:  do you really want the popcorn?  Is it the sight of the concession stand, the smell and sound of the popcorn popping, and your habit of associating movies and popcorn that makes you buy it?  Now that you know the facts you can make the choice that's best for you.
You could also consider bringing your own.  Compare:
Calories, saturated fat, and sodium in movie theater popcorn:
Regal: 
      Small, 11 cups
Calories 670
Saturated fat 34 g
Sodium 550 mg
AMC: 
        Small, 6 cups 
Calories 370 
Saturated fat 20 g 
Sodium 210 mg
Cinemark: 
Small, 8 cups
Calories 420 
Saturated fat 2 g {canola oil}
Sodium 690 mg
Source: Center for Science in the Public Interest
Calories and fat in bagged popcorn:
Average of all brands (plain/ready-to-eat):  3oz. bag (9×5")  Calories 480  Fat 24g
Cracker Jack:  3&3/8 oz. bag  Calories  410  Fat 7g
Calories and fat in microwave popcorn:
Average of all brands (popped): 
Regular:  1 cup  Calories 35  Fat 2g
Light:       1 cup  Calories 25 Fat  1g
Source:  The CalorieKing Fat & Carbohydrate Counter