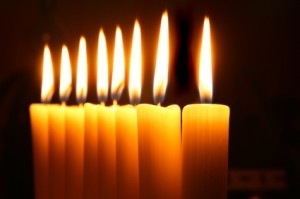 Hanukkah (or Chanukah), the Festival of Lights, is an eight-day Jewish celebration that commemorates the second century BC victory of the Maccabees over the Syrians. After the victory Judah called on his followers to cleanse the Second Temple, rebuild its altar, and light its menorah, the gold candelabrum with seven branches representing knowledge and creation.
The Temple needed to be rededicated by lighting the N'er Tamid (eternal light present in every Jewish house of worship), which shouldn't be extinguished once lit. Only one jar of untainted sacramental oil was found which was barely enough to burn for one day, but miraculously, the small amount of oil continued to burn for eight days and eight nights.
Traditional Hanukkah Foods
Hanukkah is a time of joy and family celebration, fun and traditional foods. Since oil, especially olive oil, is the main ingredient in the 'Nes Chanukah,' the Miracle of Chanukah, oil-based foods are favorite recipes on this holiday. 'Levivot,' also known as 'Latkes,' simple potato pancakes, as well as 'sufganiyot,' jelly donuts, are very popular during Chanukah.
Although Hanukkah foods can represent serious temptation for anyone, following some tips will help you succeed (and still honor the holiday) instead of "starting over" after the New Year.
Some Hanukkah Cooking Tips
Some oils are a healthy addition to a balanced diet while others are not. However, oil is still oil regardless of type.  It is high in calories and fat, and even a small amount can put you over your calorie needs.
The word "light" or "lite" on oil labels refers to the oil's taste, not its calorie or fat content.
Avoid cooking with tropical oils, like coconut or palm, which are high in saturated fats. Use healthy oils like olive, canola, and peanut which are high in monounsaturated fats.  Other good oil choices are: corn, soybean, safflower, and grapeseed.
Make latkes ahead of time and freeze them for up to two weeks layering them between wax paper in airtight containers. Bake them (don't refry) at 350 degrees Fahrenheit for 15 minutes before serving.  Drain on paper towels. Consider mixing the grated potatoes with other shredded vegetables such as carrots or parsnips to lighten the starchy calories.
Aim to reduce the amount of oil in the fried food. Draining on paper towels after frying keeps the taste and tradition but sops up excess oil and reduces the fat and calories.
Frying your foods in a non-stick skillet (even if it sounds like defeating the purpose of the non-stick surface) allows you to use less oil.
Calories In Traditional Hanukkah Foods
Applesauce, sweetened, ½ cup:  95 calories; 0g fat
Applesauce (unsweetened), ½ cup:  50 calories; og fat
Fried potato latke, 2oz:  200 calories; 11g fat
Matzo Ball, 1 large:  90 calories; 3g fat
Chicken soup with matzo ball, 1 cup:  185 calories; 8g fat
Fried, cheese-filled blintz, 1 medium:  340 calories, 15g fat
Baked jelly-filled sufganiyot, 2 inches:  115 calories, 1g fat
Fried jelly-filled sufganiyot, 2 inches:  300 calories; 15g fat
Almond Mandelbrot, ¼ inch slice:  45 calories; 2g fat
Rugelach, 1 cookie:  100 calories; 7g fat
My new ebook is now available:
For more help in eating and enjoying holiday food — from Halloween through Valentine's Day, invest 99 cents for my new ebook: