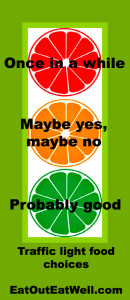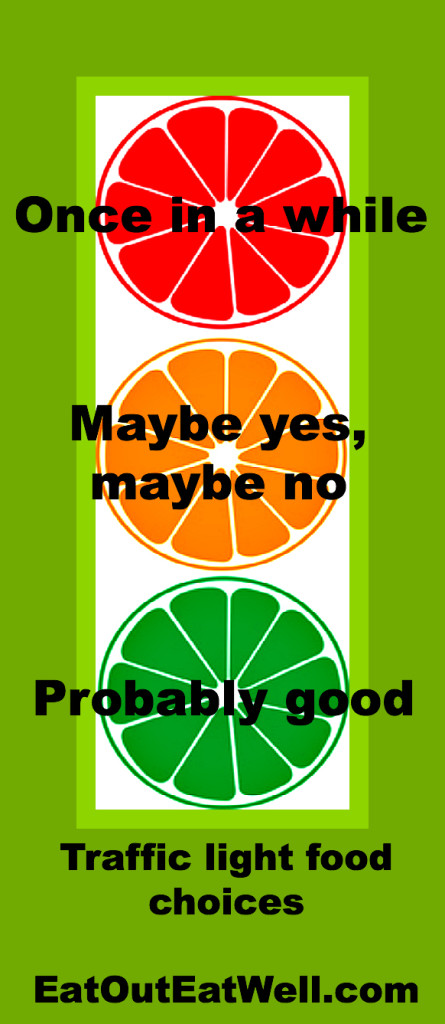 Here are some tips on recognizing menu descriptions to help you make the best caloric choices (of course, portion size plays a big role, too).
Any menu item will have tons of added calories if it is:
smothered in sauce
covered or layered with cheese
loaded with butter, oil, cream, mayonnaise, or dressing
"sugared-up" even if it doesn't taste sweet

made from a fatty cut of meat
made with hidden sugar or flour and/or some type of fat for thickening
a huge portion size
Green Light (Probably A Good Choice) words or phrases:
Barbequed
Blanched
Boiled
Grilled/Broiled/Charbroiled
Fat free
Garden fresh
Poached
Primavera
Red sauce/ Marinara
Roasted
Seasoned
Steamed
Quick hint:  Words ending in the letter "d" are frequently on the okay list, for instance: poached, boiled, grilled, and steamed.  Some notable exceptions are:  fried, and the "b-d" words:  buttered, battered, and breaded.
Yellow Light "Caution" Foods (Maybe Yes, Maybe No)
Words frequently used on menus to describe "yellow light foods," should be chosen cautiously because they may or may not be healthy choices.
Yellow Light words or phrases:
Baked
BastedStir-Fried/Sauteed
Vegetarian
Vinaigrette
High Fiber
Light/Lite
Reduced
Marinated
Stewed
Panini
Almandine/Almondine
Red Light (Once In A While) Foods
Really think hard before eating food described with these words and phrases:
Au gratin/Cheesy/Parmigiana
Aioli
Alfredo
Battered/Encrusted/Crusted
Bearnaise/Hollandaise
Bet you can't finish it/ Bottomless/Value/Giant/Jumbo/Loaded
Bisque
Breaded
Buttery / Buttered
Carbonara
Casserole
Chicken fried/Pan fried
Covered/Smothered
Creamed/Creamy/White Sauce/Bechamel
Crispy/Crunchy
Deluxe
Escalloped/Scalloped
Fried/Deep fried
Pesto
Stroganoff
Stuffed
Twice baked
Quick hint:  Words ending in the letter "y" should usually send up red alerts, for instance:  cheesy, crispy, crunchy.
This post is part of the 500 calorie challenge:  lose 5 pounds in 5 weeks the healthy way.