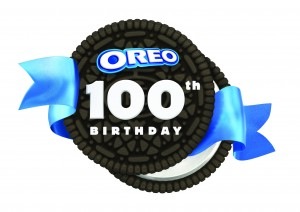 What happened the same year that the Titanic sank and the South Pole was discovered?  The cookie that millions have twisted apart and dunked was born!
The Oreo  — sweet sugary creme sandwiched between two decoratively embossed chocolate flavored wafers – celebates its 100th birthday on March 6, 2012.
Some Oreo Trivia
Oh, Oreos!  We must love them because we eat 20.5 million of them a day.
Over 491 billion Oreo cookies have been sold since they were first introduced in 1912, making them the world's favorite cookie and the best-selling cookie brand of the 21st century.
They were first baked at the National Biscuit Company (Nabisco) factory in an 1890's building — now called Chelsea Market — that runs from 15th to 16th Street between Ninth and Tenth Avenue in New York City. Just to show how popular Oreos are, West 15th Street between Ninth and Tenth Avenue is now known as Oreo Way.
You can buy Oreos in more than 100 countries.  The most sales ( 2010 data) are in the US followed by China, Venezuela, Canada, Indonesia, Mexico, Spain, Central America and the Caribbean, the UK, and Argentina.
The Original Oreo
One hundred years ago Nabisco's new idea for a cookie was two chocolate disks with a creme filling in between. Early Oreos looked a lot like today's Oreo with just a slight difference in the design on the chocolate disks.
Originally they came with either a lemon or vanilla creme filling, cost 25 cents a pound, and were sold in cans with glass tops so customers could see the cookies. The vanilla creme filling turned out to be more popular so the lemon was discontinued in the 1920s.
Today there are a whole bunch of different fillings like mint, chocolate, caramel; double stuffs; chocolate coatings; and colored holiday fillings.
Remember Hydrox, the other sandwich cookie?  Oreos weren't the first sandwich type cookies on the market. Sunshine introduced Hydrox in 1910 two full years before Oreo's debut but Hydrox never became as popular as Oreo and production stopped in the mid 1990s.
Oreos: Interactive
An interactive cookie?  Think about it — Oreo's interactivity is one of the keys to its success. You don't just eat it — you can dunk it, bite it, or twist it apart.  Oreos hold such fascination that food lovers, psychologists, and food writers have all speculated about whether the way someone eats their Oreo indicates a personality type.
Using the iconic Oreo "twist, lick, dunk" ritual, 50% of all Oreo eaters pull apart their cookies before eating them, with women twisting them open more often than men.
According to a History.com video, in 2004 Kraft (Nabisco is now a Kraft brand) surveyed over 2000 Oreo eaters and found that they are divided into three categories:
Dunkers tend to be energetic, adventurous, and extremely social. 87% of dunkers say milk is their liquid of choice for dunking.
Twisters — and who hasn't twisted an Oreo – (I personally think it makes the Oreo last longer 'cause you get two cookies) – tend to be emotional, sensitive, artistic, and trendy.
Biters are easy going, self-confident, and optimistic.
The survey also discovered that more women tend to be dunkers while men tend to be biters.  And, Democrats tend to twist, Republicans tend to dunk!
Some Stats
One 2pack of Oreos (two regular cookies, not double stuffs) has 140 calories, 4g of fat (3g saturated), 14g carbs, and 1g protein.