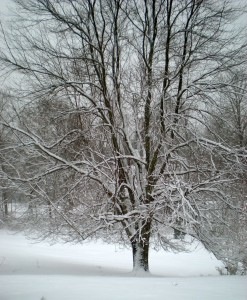 There is a heck of a lot of snow outside.  I actually can't open my kitchen door because of a gigantic snowdrift.  Many hours after the snow has deposited a foot and a half of whiteness (without the drifts), the guy who plows my driveway hasn't been here yet because his truck broke down.
It also happens to be two days after Christmas.  I served lunch to twenty people on Christmas Day.  I have leftovers – lots of them – and most of them are not, by any stretch of the imagination, of the low calorie variety.
Being stuck inside with many leftovers in the fridge and a post-holiday slump leads to almost continuous nibbling and noshing.  What to do?
What To Do As The Caloric Intake Approaches Stratospheric
You can do lots of things, but some of them are just not happening – like not making any trips to the fridge or just sipping chicken broth!  Sometimes there's just no choice and you just give in and eat – recognizing that you probably will feel like a slug – a very beefy slug – for several days post food frenzy.
You can counter with some activity. It does a lot for your mood and might use up some of those excess calories. Check out the calories you can burn with these winter activities.  These are for a 150 pound person. If you weigh more you'll burn more calories, if you weigh less you'll burn fewer calories.
Calories Burned Per Hour With Some Winter Activities
Building a Snowman:   285 calories
Having a Snowball Fight:   319 calories
Making Snow Angels:   214 calories
Snowshoeing:  544 calories
Shoveling snow:   408 calories
Baking cookies:  170 calories
Sledding:  476 calories
Cross country skiing:  612 calories
Bundle up and go have some fun!  The hot chocolate and cookies will taste even better.