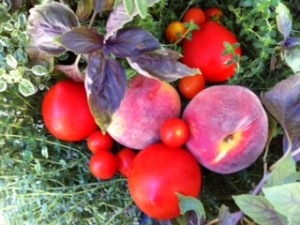 I have lots of tomatoes on my tomato plants: large ones, small ones, cranberry greenish heirlooms, and canary yellow ones. The voracious woodchucks and chipmunks (I watched a little Alvin wrestle a tomato off a plant on my deck, roll it across to the stairs, and then snag it in his mouth like a toddler carrying a giant beach ball) are feasting to their hearts' content and there's still a surplus.
An Experimental Mixture
Some unexpected company prompted me to use up some odds and ends in the fridge and to whittle down my tomato surplus.
Aside from my tomato overload, I had a big bowl of ripe peaches from the farmers market, lots of basil growing on the deck, and a hunk of feta cheese.
Do Things That Grow Together Go Together?
I had read somewhere that things that grow during the same growing season go together – an idea that my Mother, who grew up on a working farm, absolutely upholds.  So, I figured if it's peach and tomato season, why not try them together?
To go with a roasted chicken I picked up at the market, I made what turned out to be an absolutely delicious tomato, peach, feta, and basil salad.
Tomato, Peach, Feta, And Basil Salad
I didn't use any precise measurements although the cut up amounts of tomatoes and peaches looked about equal.
Ingredients:
Equal amounts of tomatoes and ripe peaches cut into small chunks (I halved the larger grape and cherry tomatoes)
Crumbled feta cheese to taste
Fresh basil to taste
Salt
Balsamic vinegar
1.  Core and seed the larger tomatoes
2.  Chop tomatoes into bite-sized pieces, salt them, and let them drain
3.  Remove the stones (pits) from the peaches and chop the peaches into bite-sized pieces about the same size as the tomatoes
4.  Make a chiffonade of basil (cut it into thin strips)
5.  Mix everything together
6.  Add the crumbled feta
7.  Mix again
8.  Correct the salt and add balsamic vinegar if desired
9.  Serve at room temperature
10. Refrigerate any leftovers – they're great the next day as a type of tomato/peach salsa on fish, chicken, sandwiches or anything else you can think of.