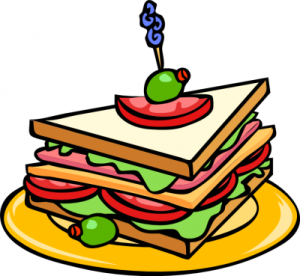 Lunchtime.  What will it be?  Maybe a sandwich – it's nice outside – good day to eat on a bench in the park.  Salad is way too messy.  Sandwich or a wrap is the way to go.
Lots of choices for the sandwich filling:  ham, turkey, roast beef, cheese, tuna, grilled veggies . . .
Lots of choices to wrap around the protein:  rye, wheat, white, roll, wrap . . .
Lots of stuff to put inside along with the protein: lettuce, tomato, onion, sprouts, olives . . .
What's going to give your sandwich a pop of flavor and hold it all together  . . . mayo, mustard, ketchup, oil and vinegar???
Here's where you can save close to 100 calories – without sacrificing flavor. My math is not fuzzy.  Note that all calorie counts are for a tablespoon.  In my experience, it's awfully easy to use at least a tablespoon, if not more, of mayonnaise on a sandwich – and pretty tough to use that amount of mustard (you're far more likely to use closer to a teaspoon).
Calories per tablespoon:
Dijon mustard:                                                     12
Yellow mustard:                                                   9  (1 packet, 3 calories)
Deli mustard (Grey Poupon):                           15
Honey mustard:                                                   around 30 (check brand)
Spicy brown mustard (Gulden's):                   18
Classic yellow mustard (French's):                  0  (yep!, it's water and spices)
Dijonnaise (Hellman's):                                       15
Ketchup:                                                                  15  (1 packet, 6 calories)
Russian dressing:                                                 54
Mayonnaise:                                                          99 (1 packet, 86 calories)
Light mayonnaise:                                               49
Fat free mayonnaise:                                           13
Tartar sauce:                                                          74
Relish, sweet:                                                         20  (1 packet, 13 calories)
Horseradish:                                                           6
Vinaigrette:                                                            43
Olive oil:                                                                  119
Butter:                                                                     102
To save calories:
Experiment with different kinds of mustard and relish
Swap the mayo for mustard
Swap the mayo for ketchup
Swap the Russian dressing for ketchup or relish
These are some small swap-outs that you can learn to do routinely – they become a mindless way to save calories.  Of course you could also walk or run a mile in the park instead of sitting on a bench eating your slimmed down sandwich.  The mile will burn off around 75 to 100 calories (depending on your weight and speed)– the same amount you might save with some of the swap-outs suggested above.