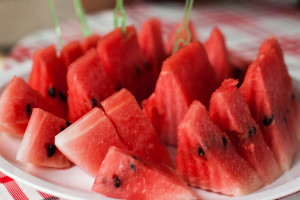 I've been noticing whole and quartered watermelons at my local market.  It's not time for local watermelon where I live, but now it's pretty easy to watermelon year round – even in colder climates.
Watermelon seems to go hand in hand with warmer weather and certainly with the lazy, hazy days of summer. How much fun is it to sit on some porch steps or on a big rock and spit watermelon seeds — maybe even have a distance contest.  Okay – so not everyone gets as much of a kick out of it as I do, but it's been fun since I was a kid.
Watermelon was – and still is – a treat.  Chunks and slices of watermelon have certainly finished off lots of camp meals and family picnics. Finishing off a meal with a platter of watermelon is common in Greece and other Mediterranean countries. How great is sweet, juicy watermelon on a hot day?  What about the college special: watermelon infused with vodka – or when money was scarce, grain alcohol?  And, how pretty are those intricate carved watermelon baskets filled with watermelon, cantaloupe, and honeydew balls?
A Melon With History
The first recorded watermelon harvest was in Egypt, nearly 5,000 years ago. Now you can find more than 1,200 varieties, which are are grown in 96 countries.  Watermelon, 92% water and 6% sugar, considered both a fruit and vegetable, is a cousin of cucumbers, pumpkins, and squash and is the most consumed melon in the US, followed by cantaloupe and honeydew.
Some Watermelon Facts
Because of its water content – it's 92% water — watermelon is a volume food. It fills you up and quenches your thirst, and is great for weight control.
1 wedge (about 1/16 of a melon, 286 g) has 86 calories, no fat, 22g carbs, 1g fiber, 2g protein.
10 watermelon balls (122g) have 37 calories, 0 fat, 9g carbs, 0g fiber, 1g protein
1 cup of diced watermelon (152g) has 46 calories, 0g fat, 11g carbs, 1g fiber, 1g protein
Two cups of watermelon chunks will supply 25% of your daily vitamin A, 30% of your daily vitamin C, B6 (6%) of B6; 8% potassium, 4% phosphorus, and 8% magnesium as well as beta carotene and lycopene (red flesh melons).
The inner rind is edible and has a bunch of hidden nutrients.  The outer rind, also edible, is sometimes used as a stir-fried or stewed vegetable or pickled condiment.
When you buy a watermelon look for one that is firm, symmetrical, and free from bruises, cuts, or dents. It should be heavy for its size and its underside should have a creamy yellow spot from where it sat on the ground while it ripened in the sun.
Whole melons will keep for 7 to 10 days at room temperature but lose flavor and texture if they're stored too long. They'll keep for three to four days in the fridge after they're cut.
A Fantastic Sweet And Salty Combination
Here's a recipe for a great watermelon, feta, and greens salad that is low in calories and fat. Sweet, salty, crunchy, yumm.
Mediterranean Watermelon Salad
Ingredients: (adapted from watermelon.org)
6 cups torn mixed salad greens
3 cups cubed seeded watermelon
1/3 cup crumbled feta cheese
1/2 cup watermelon vinaigrette
Freshly ground black pepper
Watermelon Vinaigrette:
1/4 cup pureed watermelon (puree chunks in a food processor)
2 tablespoons white wine vinegar
Directions:
To make the vinaigrette:  whisk together all ithe ngredients; store in refrigerator; shake well before using. Makes about 1/2 cup.
To make the salad:  in large bowl, mix all the salad ingredients except the vinaigrette, pepper, and mint. Just before serving, toss the salad mixture with the vinaigrette. Garnish with pepper and mint sprigs.
Makes 6 servings, about 75 calories per serving.